Stradivari's 'Golden Period', the universally acknowledged ne plus ultra of his extraordinary 70-year working life, is centered on the decade of 1710–1720. And within this period, the years 1713–1716 are the epicenter. At the pinnacle of his powers, with access to the best materials and the finest varnish, Stradivari created many of the most celebrated examples of his career. The 'da Vinci', bearing a label dated 1714, belongs to this elite group of Golden Period instruments.
What made these years so special? Most experts put it down to a confluence of circumstances. After decades of experimentation, Stradivari had honed in on his perfect model, both flat and broad, with an arching that had been refined to perfection. Whether he knew it at the time or not, at the age of nearly 70, Stradivari had hit his stride.
A dendrochronology analysis conducted by Peter Ratcliff indicated that the latest visible rings on both the bass and treble sides of the front of the 'da Vinci' dated to the year 1693. Significantly, Ratcliff found potential same-tree matches with the 1712 'Hřímalý', the 1713 'Kux, Rothschild', the 1714 'Joachim, Ma', the 1715 'Cremonese', the 1716 'Provigny' and the 1718 'Szekely, Michelangelo'.
By all standards, the 'da Vinci' is an exceptional Golden Period Stradivari – fetching, beguiling and in excellent condition.
Stylistically, the 'da Vinci' is slightly more refined than other instruments from this period: the edges are less wide, the purfling is narrower and more compact and the corners are less blunted than other violins from the mid-teens. The handsome one-piece maple back has a deep and narrow figure which is similar in appearance to that of the 1710 'Vieuxtemps', the 1712 'Earl Spencer' and the 1715 'Duke of Cambridge'. Curiously, in this period one-piece backs are less common: in the decade of 1710–1720 Stradivari favored two-piece backs by a factor of three to one whereas in the decade previous he made one-piece backs more than twice as often as two-piece backs.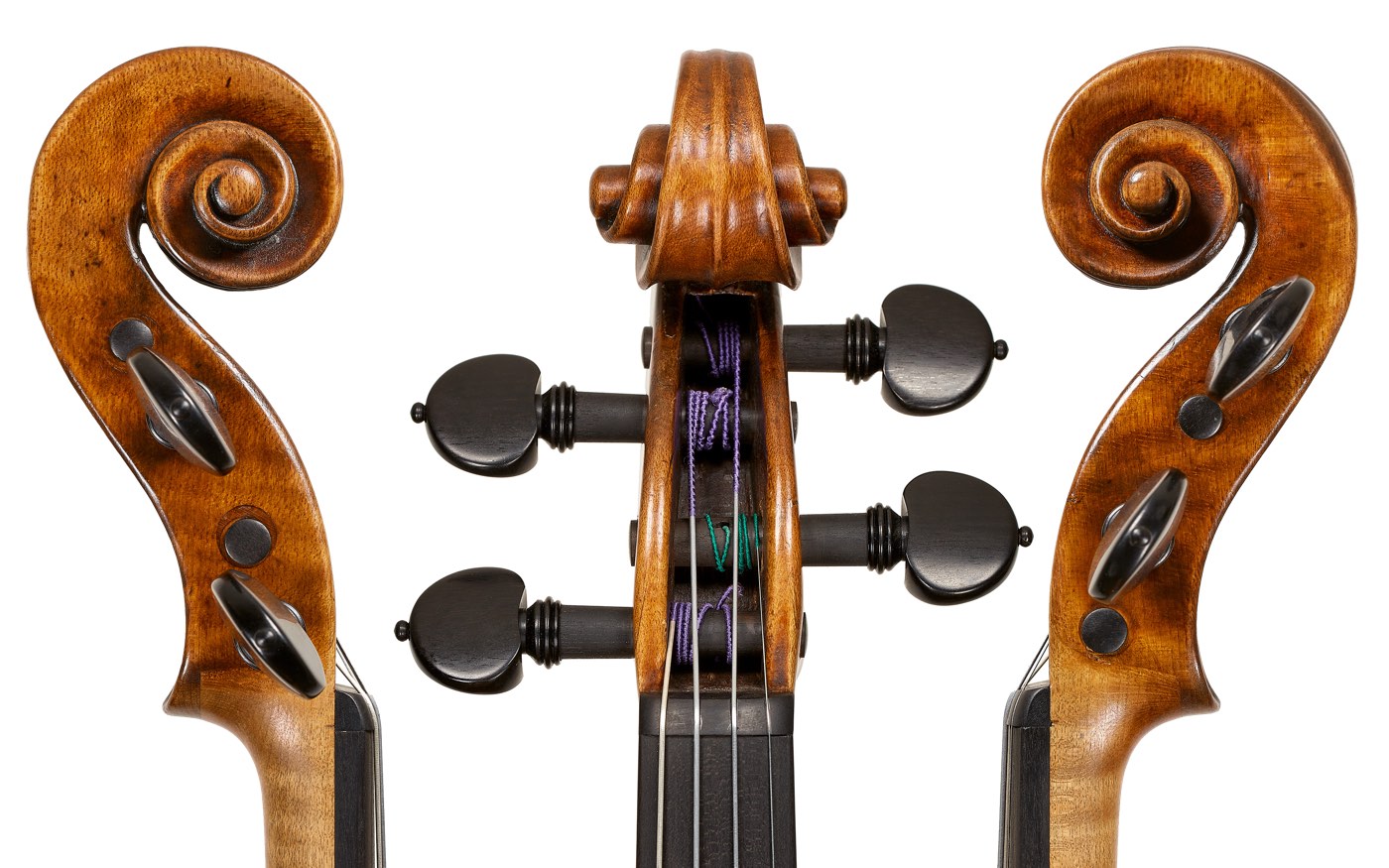 The ribs and head are of similar maple with slightly wider flame. The front is made of spruce with medium-width grain; slight haselfichte is visible in the lower bouts. The varnish is of a golden amber color: bright, vivid and polychromatic in different lights.
A computed tomography (CT) scan of the 'da Vinci' revealed a healthy instrument, free of woodworm and unencumbered by serious restorations. Black and white images of the 'da Vinci' from c. 1924 and c. 1950 show the same modest wear patterns and surface marks, indicating that the instrument has been preserved in more or less the same condition for the past century. By all standards, the 'da Vinci' is an exceptional Golden Period Stradivari—fetching, beguiling and in excellent condition.
The 'da Vinci, ex-Seidel' will be sold at auction on June 9, 2022. With inquiries, please contact davinci@tarisio.com.