Bidding
Information for bidders in Tarisio auctions.
Bidder Registration
Bidders must register for each Tarisio auction in which they wish to participate.
To register online, follow the Register to Bid link. You will be asked to choose a Bidder ID. Your Bidder ID will be visible to others browsing the site and must not identify the bidder. All registration information is kept strictly confidential and secure. Bidders are responsible for keeping their registration information and preferences up-to-date. To make changes to an existing registration, click the Account link.
Please note: there is a $1.00 charge to register.
Tarisio reserves the right to refuse the registration of any bidder at any time.
Opening and Ending Times
Each lot has a separate ending time and date as listed in the catalog. Ending times are staggered to accommodate bidders interested in multiple lots. All times are listed in Eastern Standard (EST), Eastern Daylight Time (EDT), Greenwich Mean Time (GMT), British Summer Time (BST) or Central European Time (CET) as appropriate.
Placing a Bid
To place a bid, select the relevant lot and click Place a Bid. By default, the amount of the bid will be the current bid plus the appropriate auction increment (see Bidding Increments below). If no bids have been placed, the default amount is the opening bid. You will be asked to enter your Bidder ID and password. After clicking Submit Bid, you will receive an email confirming the amount of the bid. If another bidder places a higher bid, you will receive an outbid notice by email. By placing a bid on a Lot (including a Proxy Bid), you are committing to a legally binding and irrevocable offer to purchase the Lot at any price up to and including your highest bid amount. Please see our Terms of Use for more information.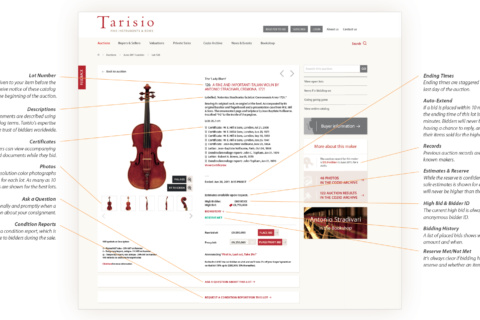 Watch this video for complete bidding instructions:
Left Bids
Bidders are encouraged to place bids online, but those without access to the internet may leave bids at the viewings, or submit bids by telephone. To place bids by telephone please call +1 212 307 7224 (New York sales),  +44 (0)20 7354 5763 (London sales) or +49 30 9404 5443 (Berlin sales) after having registered with Tarisio in advance.
Please note: left bids are handled as proxy bids (see below). These services are provided as a courtesy to bidders, and although every effort will be made to execute bids on time and accurately, Tarisio will not be responsible for any error or failures to execute left bids. In the event that identical bids are left by two or more parties, Tarisio will honor the first bid received.
Proxy Bids
A proxy bid allows you to set a maximum amount that you are willing to spend and enables the auction software to execute bids as necessary on your behalf. The auction software will place an initial bid (one increment above the current bid) and then wait. If a challenging bid is placed by another bidder, the auction software will automatically execute a bid on behalf of the original proxy bid (again, one increment above the current bid). The auction software attempts to place as few bids as possible in order to keep the bid amount as low as possible. Under no circumstances will the auction software exceed the amount of a proxy bid. A proxy bid is strictly confidential and is encrypted securely in the auction software.
To place a proxy bid, simply select the relevant lot and click Place Proxy Bid. After selecting your bid amount from the drop-down list, you will be asked to enter your Bidder ID and password. You will then receive an email confirming that a proxy bid has been placed. If the maximum amount of your proxy bid is exceeded, you will receive an outbid notice by email.
Bidding Increments
Bidding will be conducted according to the following increments, regardless of the sale currency:
| | |
| --- | --- |
| Current Bid: | Increments: |
| 0 to 240 | by 10 |
| 250 to 475 | by 25 |
| 500 to 950 | by 50 |
| 1,000 to 2,400 | by 100 |
| 2,500 to 4,750 | by 250 |
| 5,000 to 9,500 | by 500 |
| 10,000 to 24,000 | by 1,000 |
| 25,000 to 47,500 | by 2,500 |
| 50,000 to 95,000 | by 5,000 |
| 100,000 to 240,000 | by 10,000 |
| 250,000 to 675,000 | by 25,000 |
| 700,000 to 950,000 | by 50,000 |
| 1,000,000 to 1,900,000 | by 100,000 |
| 2,000,000 to 7,800,000 | by 200,000 |
| 8,000,000 and up | by 500,000 |

Bidding History
Tarisio's website provides complete and current bidding history for all lots. The bidding history details the time and date, Bidder ID, and amount of each bid.
Ending Time Auto-Extend
If there is active bidding within the last 10 minutes of a particular lot's published ending time, the ending time will automatically extend for 15 minutes. This is done as a courtesy to the recently out-bid bidder. The ending time can continue to extend indefinitely for as long as there is active bidding.
Web Page Refresh
Tarisio's lot pages automatically refresh every two minutes; however, to make sure you are seeing the most accurate up-to-date bidding information, you can refresh or reload your browser window to request the latest bidding information from our server.
Reserve Met
When the reserve for a lot is met or exceeded, a highlighted message appears beneath the description of the lot reading Reserve Met. If the reserve has not yet been met, the message will instead read Reserve Not Met.
Successful Bids
The high bidder at the closing time of each lot will be emailed a successful bid confirmation detailing the lot number, description, and final bid amount; each high bidder is also requested to set their shipping, payment and other preferences. Within 48 hours of the close of the sale, bidders will receive a preliminary invoice for the lot(s) they have successfully purchased. The invoice will include the buyer's premium and any applicable shipping fees and taxes based on the bidder's preferences. It is the responsibility of the bidder to notify Tarisio should you wish to have a particular purchase shipped or invoiced by means other than those specified on the preliminary invoice.