Our July auction in New York includes an exciting range of instruments, and this week, I'm pleased to share an advance preview of the sale's highlights. Next week, I'll take a closer look at the stories behind a few of these instruments. You can view the entire catalogue here. We look forward to seeing you at the viewings!

The top lot from our July auction is a remarkable violin by the Mantuan maker, Camillo Camilli, built in circa 1735. Previously attributed to Pietro Guarneri and later to Tommaso Balestrieri, this violin was correctly recognized as the work of Camillo Camilli by William Moennig & Son before they sold it to its current owner in 1960. Built on a broad model with sound-holes inspired by Pietro Guarneri, it's no surprise that this instrument works as well as it looks. Camilli and the other makers of the Mantua tradition are finally achieving long-overdue appreciation by musicians and collectors in part thanks to new research.
The vibrant, luminous, golden orange-brown varnish is the standout feature of this instrument. I'll be writing about this instrument in depth in next week's Carteggio.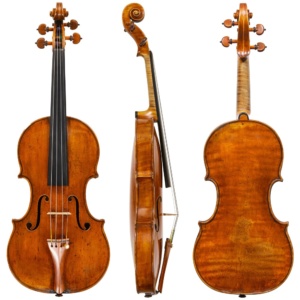 This violin by Nicolo Gagliano is a rare copy of Antonio Stradivari. For the most part, the early Neapolitan makers built instruments using original models and rarely copied those of other makers. There are, however, some rare and exceptionally fine copies of Stradivari and Amati made by Nicolo Gagliano. I have never encountered a Guarneri model Gagliano, let alone anything more exotic, but the Stradivari and Amati models are consistently of a high level. This instrument is in excellent condition and shows the discipline and talent of Nicolo Gagliano at the height of his powers.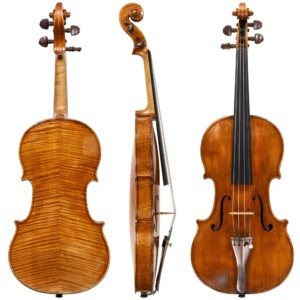 This fine English cello dates from the mid-19th century and is ascribed to the superb London cello maker and copyist, Bernard Simon Fendt. The Hills suggested it was a copy of a 'sotto la disciplina di Antonio Stradivarius' instrument, which is an interesting hypothesis. I'll discuss this instrument in detail in next week's Carteggio.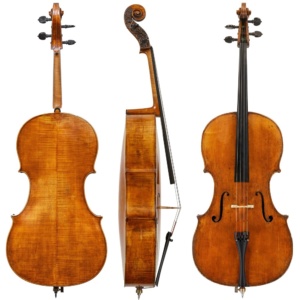 This viola was made by David Burgess in 1982, during his prime years of winning competitions, and before he was made hors concours by most of them. It was purchased by Maurice Riley, the viola and violist scholar and author of the two volumes, The History of the Viola. Riley knew Burgess well and, according to Riley's son, this instrument was purchased directly from the maker. The handsome flamed maple back, the confident and informed Stradivari model, and the richly vibrant and un-antiqued varnish show off the skills of one of the most revered contemporary makers whose work rarely appears at auction.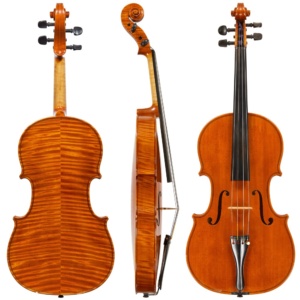 This fine gold mounted violin bow by Emile Auguste Ouchard was made on a model of Dominique Peccatte. The numbers 19 and 50 branded to the underfacet of the stick indicate that it was the 19th bow that Ouchard made in the year 1950, when he was working in Batavia, Illinois. The work is clean and refined, and the bow is in near mint condition.



This fine Hungarian violin is by Johann Baptist Schweitzer. I'll write more in depth about this important maker, his influence on future generations, and about this instrument in particular in next week's Carteggio.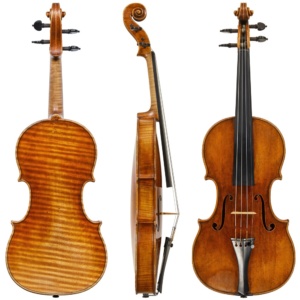 Previously owned by Nobuko Imai and subsequently purchased from Tarisio in 2012 by the late Yossi Gutmann, this silver mounted viola bow by Victor Fetique is an exceptional players' bow.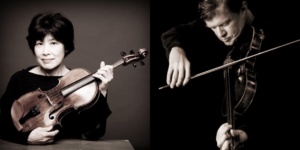 This violin, bearing a spurious label of Leandro Bisiach, is a clear example of the talented but often overlooked maker from Pieve di Cento, Carlo Carletti. The warm red varnish, the distinctive sound holes and the iconic head all indicate the work of this Emilia maker. I'll also discuss this violin in next week's Carteggio.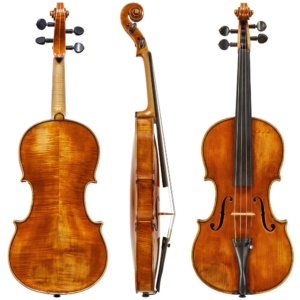 This violin arrived without an attribution but was quickly identified as the work of the central Italian maker Francesco Maurizi. See my earlier article about recognizing this rare and iconic maker.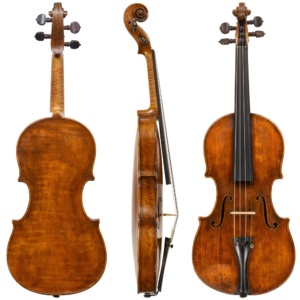 This violin by Gaetano Gadda was made in the year 1945 on the model of his teacher, Stefano Scarampella. I note that the quality of output for Gaetano Gadda's instruments was always high, and even in the darkest days of World War II, the tonewood and varnish remained first class. This instrument comes from an accomplished player and attests to the Mantua school's importance in 20th century violinmaking.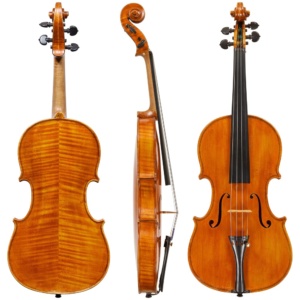 Many of the great Italian makers of the 20th century showed off their skills by making violas d'amore. Leandro Bisiach, Vincenzo Sannino, Cesare Candi, the Cavanis and the Carlettis were all known to have made ornamented violas d'amore. This instrument, functional and elegant, was made by the much celebrated and recently departed Gio Batta Morassi in 1974.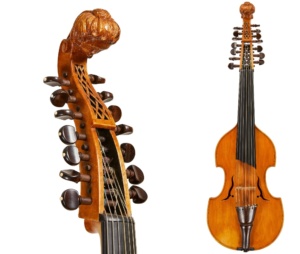 Finally, this sale presents a violin and a cello bow by the much sought-after contemporary French maker Stéphane Thomachot. The cello bow is gold mounted; both are in mint condition.



Next week I will take a deeper look into the Camilli, Gagliano, Fendt, Schweitzer and others. You can browse the rest of the sale here, which includes instruments by Deconet, Sderci, Ventapane, Becker, Peccatte, Sartory, and Voirin, among many others.