Francesco Maurizi, c. 1850
Like many 19th century provincial Italian violinmakers, Francesco Maurizi worked in a style which is often characterised as rustic but is highly consistent and easily recognizable. Born into a family of farmers in 1816 near Ascoli Piceno in the Marches region of central Italy, Maurizi is believed to be self-taught and his work shows little direct inspiration from classical makers. His violins are rare and at present no violas or cellos by him are known to exist. Maurizi instruments often bear pre-dated labels with the names "Jacopo Brandini" and "Philippus Brandilione" which has, in the past, led them to be mistakenly attributed to 18th century work.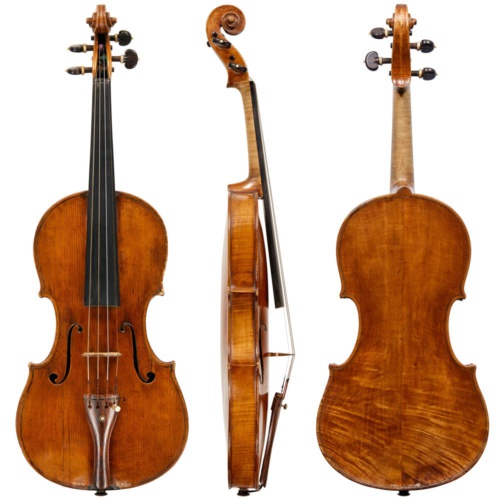 Lot 217 A GOOD ITALIAN VIOLIN BY FRANCESCO MAURIZI, APPIGNANO, c. 1850
The back of this violin is made in two pieces of mostly plain maple with irregular figurations in the lower bouts. The two halves are from the same log but are not book-matched in the typical orientation but rather set side-by-side so the irregular flame pattern is seen repeating. The outline is highly individual with rounded upper and lower bouts and short inelegant corners. The central purfling strip is wide and ivory colored and the purfling corners are pinched and crudely mitred towards the centre. The long and slender soundholes are distinctive to Maurizi–wide set with extremely narrow stems making it difficult to fit a soundpost of any reasonable diameter. The scroll is relatively short and stocky with a swept back pegbox and a large round volute. The last turn of the scroll finishes in a sharp cut like an eyelash curling out into the eye, a feature typical of Maurizi scrolls. Viewed from the front, the turns of the volute are slightly potted but symmetrical. The varnish is of a pleasing reddish brown color.
Comparing this violin to other examples from the Cozio archive shows that the work of this rare and self-taught maker is actually very consistent and recognisable. – Jason Price