Schoenberg – Young Artist Grants 2015 Winner Concert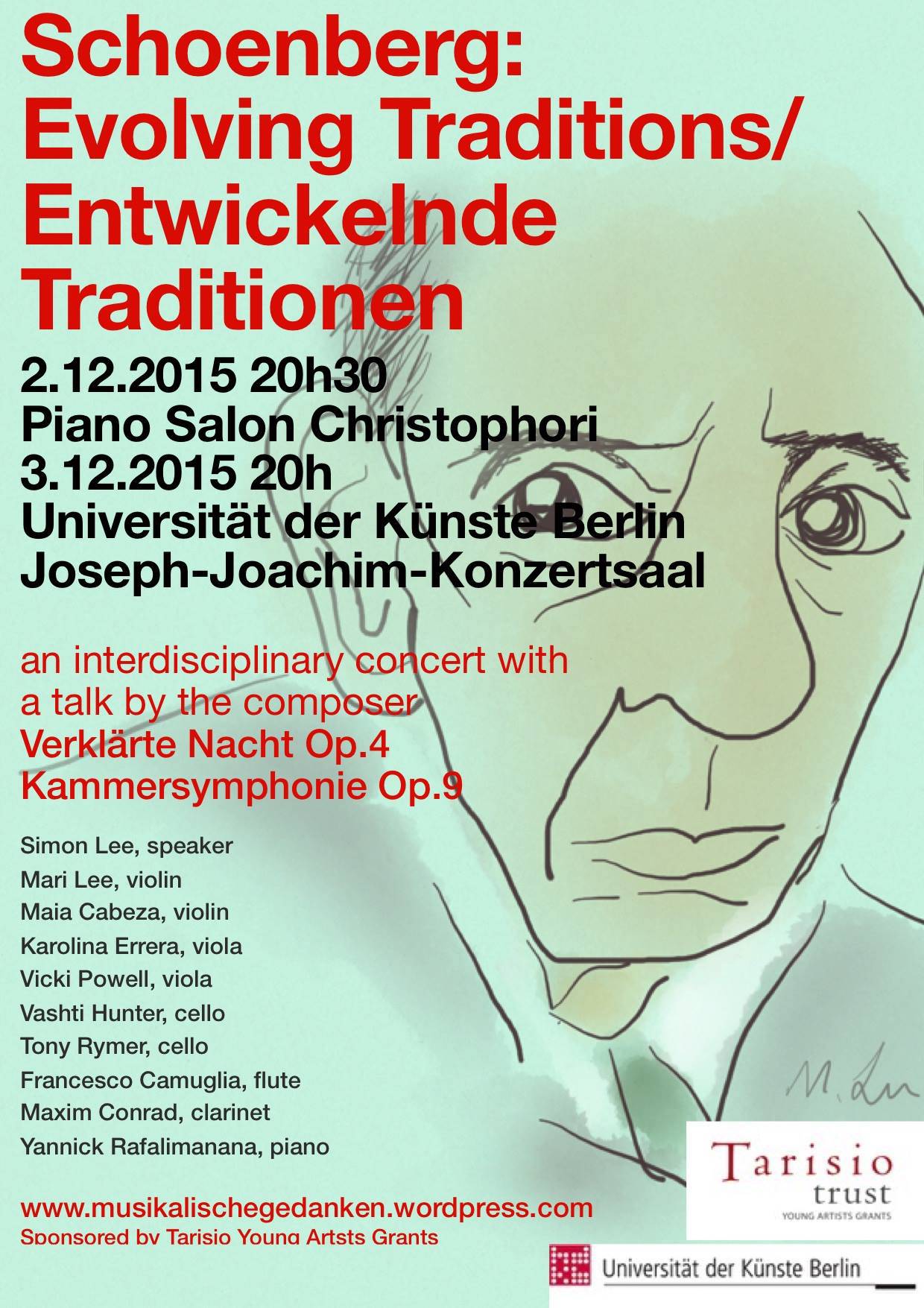 Next week sees Mari & Simon Lee – recipients of one of five Tarisio Trust Young Artists Grants, 2015 – launch their first Schoenberg: Evolving Traditions series in collaboration with Universität der Künste Berlin.
'In our project "Schoenberg: Evolving Traditions" we are exploring the language of Schoenberg's music and its place in history, his aesthetics, and his ideas from different perspectives', says Mari Lee.
'In December, we are presenting our findings in two concerts, performing his early chamber works with a talk in first person narrative which reveals Schoenberg both as a man and a composer – his views on music, culture, and traditions – providing a bigger scope and a fresh concert experience to the audience.'
What have they been up to since being awarded a Tarisio Trust Young Artists Grant? 'So far, we have used the grant to purchase the parts and the scores, to launch our website, and to print out posters and flyers for the upcoming concerts. We made a Facebook page for our project, and we started rehearsing intensively. Posters and flyers have been distributed around the city, and we are currently working on advertising our concerts!'
As well as reading Schoenberg's own text, they have also have interviewed Kim Kashkashian, Marcy Rosen and Jonathan Biss amongst others to explore developing relationships with Schoenberg's music. When asked about her initial reaction to Schoenberg's music, Kashkashian said: 'It wasn't an immediate understanding….You have to think of it like a Viennese waltz but in a Fellini movie. So, like a dreamier version of what was once a very organic reality.'
Participants include:
– Mari Lee, violin & project leader: studying for a Masters at Universität der Künste Berlin with Nora Chastain, soloist with London Mozart Players and Baden-Baden Philharmonic Orchestra, performed at South Bank Centre, Wigmore Hall, Menuhin Festival Gstaad
– Simon Lee, speaker, historian of ideas
– Maia Cabeza, violin, winner of the 2013 Leopold Mozart International Violin Competition Augsburg, currently studying with Antje Weithaas at the Hanns Eisler Hochschule für Musik Berlin
– Karolina Errera, viola, won a position as the academist of the Berlin Philharmonic Orchestra in October 2015, special prize at the 2013 International Bashmet Competition, Moscow, and the 1st prize at the International Rakovsky Competition, Poland
– Vicky Powell, viola, appeared as soloist with the Philadelphia Orchestra, the Milwaukee Symphony, and the Wisconsin Chamber Orchestra, featured artist at the Verbier, Ravinia and Marlboro Music Festivals, member of Ensmble39, graduate of the Juilliard School and the Curtis Institute of Music
– Vashti Hunter, cello, member of Camerata Nordica, currently on trial for Kammerakadamie Potsdam and winner of the 2015 ECHO prize
– Tony Rymer, cello, Masters student of Frans Helmerson at the Hanns Eisler Hochschule für Musik, Second Prize Winner in the 2014 Enescu Competition, string quartet tour of Japan with Midori
Read full biographies here.
When? 2 December, 8.30pm and 3 December, 8pm
Where? Piano Salon Christophori and Joseph-Joachim-Konzertsaal, Universität der Künste Berlin
Who? Mari Lee, Simon Lee, Maia Cabeza, Karolina Errera, Vicky Powell, Vashti Hunter, Tony Rymer
What? Verklärte Nacht and Chamber Symphony no.1 arr. Weber, with a talk 'by' the composer (in first-person narrative)
Why? Because Schoenberg is…watch their video below