Alice and Eleonore Schoenfeld were accomplished players and beloved teachers who mentored legions of students, many of whom are now concertmasters and soloists across the globe. The Schoenfeld sisters taught at the University of Southern California for over fifty years and this year, USC has chosen Tarisio to sell the sisters' instruments and bows. The Tourte and Peccatte are highlights from our November auction; the two Guarneris are offered by private sale.
The Schoenfeld sisters
Alice was born in 1921, Eleonore in 1925. The precocious sisters grew up in the former Yugoslavia but moved to Berlin in the early 1930s, so that Alice could study the violin with Karl Klingler who himself was a student of Joseph Joachim. Alice later recalled, Klinger "taught me every detail and possibility and freedom of imagination." [1]
Initially, Eleonore danced for the Berlin Staatsoper. It was "an absolutely fabulous way to be involved with music," and the experience of being so close to great singers and performers was "incredibly stimulating." [2]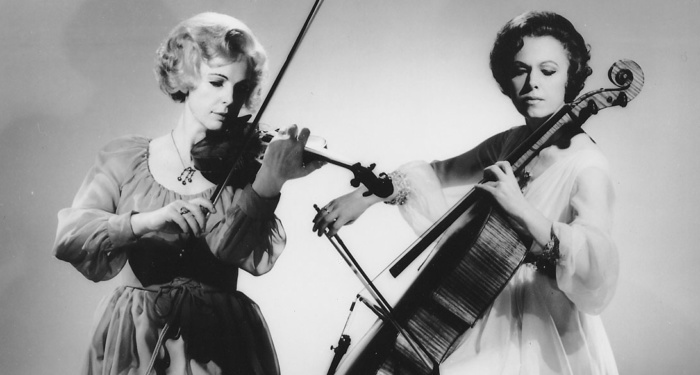 At eleven, Eleonore switched to the cello. Though she also played piano and violin, her parents convinced her to take up a different stringed instrument as by then, Alice was already a star of the European concert scene. Eleonore advanced so quickly that she gained admission to Berlin's Hochschule für Musik at age fourteen; the traditional age of matriculation was eighteen. There she worked with Adolph Steiner, a pupil of Hugo Becker.
Alice had her debut with the Berlin Philharmonic at the age of ten, and with Eleonore, she formed the Schoenfeld Duo. Together and individually, they would go on to make hundreds of recordings for the BBC which were played on both radio and television stations across Europe, the United States, Australia and China.
In 1952, following the war, the sisters immigrated to Los Angeles, where they would spend the rest of their lives. They continued to perform and, in 1959, were invited to join the faculty of USC's Thornton School of Music. Initially, the Schoenfeld sisters both taught part-time so as to continue concertizing but they attracted so many students that it became necessary to become full-time professors. Reflecting on her pedagogical practice, Eleonore explained, "I teach students how to listen, how to recognize a mistake or what needs to be improved technically and musically, and then how to do it correctly or better. The player must first have a specific task in mind and be able to visualize the sound and action necessary to accomplish it. Then he or she tries to do it and evaluates the result …The player practically lives in three time zones—past, present and future. For advanced players, this threefold process takes place almost simultaneously; as they hear the error, they realize what caused the error and know how to fix it." [3]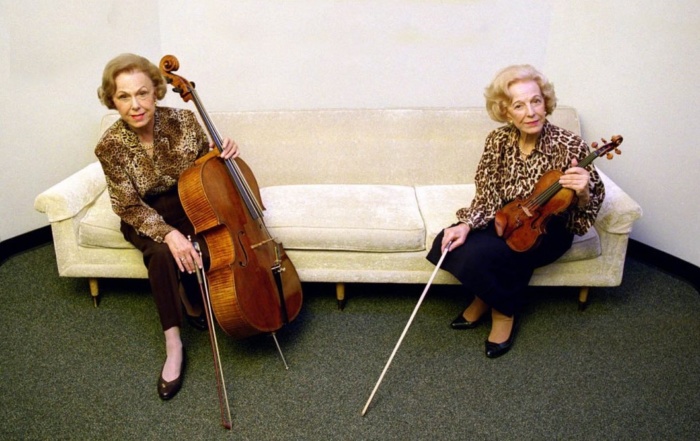 The Schoenfeld sisters shared an enduring commitment to music education. As Alice said, 'It's a noble profession to be a teacher, every year, and in every aspect." [4] Their students – now concertmasters, soloists, section players and teachers all across the world – are too numerous to count. Their colleague Ron Leonard called them "institutions within an institution." [5]
Eleonore Schoenfeld passed away in 2007. In 2012, Alice donated $10 million to USC, of which $3 million was used to renovate what is now known as the Alice and Eleonore Schoenfeld Symphonic Hall. The other $7 million established the Alice and Eleonore Schoenfeld Endowed Scholarship Fund. Alice went on to support international string competitions and the sisters were among the first internationally known musicians to visit China after diplomatic relations were established between the United States' and Chinese governments. The sisters, through their generous contributions and personal visits abroad, worked to foster connections between musicians internationally.
Alice passed away at age 98 in 2019; she taught at USC for more than five decades. The Schoenfeld sisters never married, instead committing their lives to music and teaching. For most of their lives, Alice and Eleonore lived, taught, worked and performed together. Describing her childhood, Alice said, "We could make music from morning to night," though this was true for all their lives. [6]
Eleonore's Pietro Guarneri of Venice cello