This exceptional gold and tortoiseshell cello bow by Emile A. Ouchard, formerly in the possession of the legendary French cellist André Navarra, will be sold in our June 7 auction in London.
Born on October 13, 1911 into a family of musicians in Biarritz, André Navarra was, from an early age, a gifted cellist. A precocious enthusiast no doubt encouraged by his family he was to become a leading figure in the French School. By seven, Navarra was already mastering solfège. At nine, he had begun his studies at the Conservatoire de Toulouse and, just four years later at the age of thirteen, he was awarded the premier prix.[1] Navarra went on to study at the Conservatoire National de Paris under Jules Loeb and Charles Tournemire; there he again won the premier prix in 1927.
In 1929, at age 18, he joined the Kretly String Quartet, a French ensemble established in 1920 that became known for its avant-garde repertoire; he played with them for almost seven years. Navarra also helped to establish the B.B.N. Trio with violinist René Benedetti and pianist Joseph Benvenuti. Two years later, he made his solo debut with Paris's Colonne Orchestra, performing Édouard Lalo's Cello Concerto in D minor conducted by Gabriel Pierné. In 1933 he became the first cellist of Orchestre de l'Opera de Paris, where he served under the direction of Arturo Toscanini and Bruno Walter, among others.
It wasn't until 1937 however, when he was awarded first place at the Vienna International Competition, that his international career began. A number of engagements followed, and he was soon considered one of the world's preeminent cellists. But the outbreak of the Second World War brought a halt to his burgeoning career, and in 1939, Navarra joined the French infantry. Navarra was also an accomplished mid-weight boxer and swimmer, training he had begun as a teenager. He believed that the ideal cellist possessed a 'stocky and robust build' in order to best 'dominate the instrument without undue physical effort.'[2] No doubt his lifelong devotion to physical fitness served him well during his service.
It was not until after the war and a period of retraining that Navarra returned to the cello. He joined the Conservatoire National de Paris as a professor, though he continued to tour internationally. Over the years, he performed across Europe, the United States, Canada, Mexico, Japan, India, Australia, and the USSR. He made his British debut at the 1950 Cheltenham Festival where he performed the Elgar concerto. Seven years later, he recorded this concerto with John Barbirolli and the Hallé Orchestra.
Navarra's masterful playing was renowned for its 'romantic fervour and singing tone…brilliant bowing…[and] a [seemingly] endless legato in the slowest passages.'[3] He demanded humility from himself, requiring his fingers 'to listen' as the 'fingertips were the last point before the control passes from the body into the instrument.' [4]
Navarra's masterful playing was renowned for its 'romantic fervour and singing tone…brilliant bowing…[and] a [seemingly] endless legato in the slowest passages.'
But perhaps Navarra's greatest legacy is as a pedagogue and master technician. He was part of the faculty at the Conservatoire de Paris for thirty years and held posts at the Accademia Musicale Chigiana in Siena, at the Hochschulen für Musik in Vienna, and in Detmold. For much of his life, teaching was Navarra's central focus. He shaped a generation of leading cellists who have, in turn, passed on Navarra's methods to hundreds of others. Among his students were Alexander Baillie, Heinrich Schiff, Márcio Carneiro, Christoph Richter, Johannes Goritski, Philippe Muller, Valentin Erben, Christophe Coin and Xenia Jankovic.
Navarra died in August of 1988 in Siena, where he was spending the summer teaching music courses at l'Accademia Musicale Chigiana, something he had done since 1954.[5]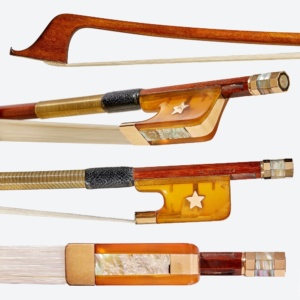 Emile Auguste Ouchard (1900-1969) was one of the finest bowmakers of the 20th century. He was also one of the most itinerant and upwardly mobile. Born in Mirecourt he received his first training with his father in the workshop of Eugène Cuniot-Hury. In 1940 he departed Mirecourt for Paris; six years later he left for New York, then Chicago, then New York again before finally returning to France in 1960, where he moved to the village of Gan in the Pyrénées in the southwest of the country.
This fine bow dates from 1937 and was made for the Exposition Internationale held in Paris that year. These large fairs, held periodically in major international cities, were very popular with the public and especially useful for artisans, including instrument and bow makers, as a place to showcase their best work and represent their country and region. The Paris exhibitions in particular were an important platform for French makers. While the previous Paris exhibitions in 1931 and 1925 were successful, the 1937 exhibition was much larger, with double the number of visitors as 1925 and four times that of 1931. Other makers and dealers exhibiting in 1937 included Eugène Sartory, Jules Fétique, André Richaume, Marcel Vatelot, Georges Dupuy, and Roger & Max Millant. Emile Ouchard shared a booth with Georges Chardon and notably was the only bowmaker at the exhibition from Mirecourt.[6] A similar cello bow, mounted in gold and ivory with a gold star inset to the frog, also made for the 1937 exhibition, is illustrated in 'L'Archet'.[7]
This period would prove significant to Ouchard's career. He had recently taken over the running of the workshop from his father and begun to use the 'E. A. Ouchard fils' brand. Three years later, after he had left Mirecourt and set up shop in Paris, he adopted the brand, 'E. A. Ouchard Paris'.
Bow expert Pierre Guillaume explained to me the importance of this period in Ouchard's career: 'Emile Ouchard started working at the age of twelve so by the time of the 1937 exposition he already had twenty-five years of experience. Not only was he a superb craftsman at the peak of his manual dexterity but he also had the advantage of having started at an early age. If a maker starts his training at the age of twenty, like people do today, it's nearly impossible to reach the level of mastery that Ouchard had at the time of the 1937 exposition.'[8]
The round stick in light reddish-brown pernambuco is of a very high quality without inclusions or flaws. The model of the head is refined and precise and already shows the maker's stylistic independence from his father. Its base is narrow at just under 11 mm, and the sides of the head are only slightly convex. The original gold tip plate is thin and finishes in a tall and elegant beak. The ebony liner is exceptionally thin and fine, and the assembly of tip and liner measures just 0.8 mm thick. The tip is secured with three pins, two in front of the mortise and one behind.
Tortoiseshell was the most precious material for frogs, and the clear, golden onglons were the crème de la crème.
The frog is made of translucent blond tortoiseshell and mounted in gold. Light golden-yellow 'blonde' tortoiseshell is extra precious because it is rare: it is found only in the outer scutes of the carapace of the hawksbill and loggerhead sea turtles, what the French call les onglons. Tortoiseshell was the most precious material for frogs, and the clear, golden onglons were the crème de la crème. There are very few Mirecourt bows from this period mounted in tortoiseshell; Guillaume told me he has never seen a tortoiseshell frog by Ouchard's father, Emile François, or by Eugene Cuniot Hury who employed both Ouchard father and son. Of course there are many Sartory bows mounted in tortoiseshell – and this was precisely what Emile A. Ouchard wanted to compete with, says Guillaume: 'He was extremely ambitious'.
Inlaid in each side of the frog is a five-pointed gold star. The frog is fitted to the stick with a Hill style seating, a hallmark of Ouchard's style which first appeared in the bows he made for Roger & Max Millant around 1930. Two iron screws fix the gold underslide to the frog, and the rounded heel is secured with two pins. The pearl slide is made of a highly figured effervescent awabi mother of pearl. The gold lapping, made of solid wire not tinsel, is probably original. It has oxidized differently from the gold on the mountings and tip, suggesting it is composed of a less precious alloy.
We know from Ouchard's January 1937 price list that a cello bow mounted in blonde tortoiseshell with an inlaid star to the frog was the highest quality and most expensive bow he produced. Many years later, during his time in New York, Ouchard made a small number of 'constellation' frogs ornamented with five gold stars surrounding a larger central star.
The button is in a three-piece form with octagonal golden rings overlaid on an ebony core. Each ring is fixed with a single pin set on opposing facets. The collar is double cut, with the large first collar standing slightly proud of the stick. Between the rings, eight mother of pearl facets are incrustées, or inlaid; their long edges are mitred to make gap-less joints while the short ends dovetail under the edges of the gold rings. The pearl eye at the butt end of the button is 6.5 mm in diameter and of the same quality of pearl as on the slide of the frog.
One of the marvels of a blond tortoiseshell frog is that all the internal workings are revealed. The two screws in the underslide are set directly into the frog at a depth of 4.5mm. The pins in the heel-plate, however, are anchored into wooden plugs or bushings which were set into the frog before the heel-plate was attached. We also can see that the tongue has been reinforced with a narrow gold plate which itself was secured with a small pin.
It's not currently known when Navarra acquired this bow, but it is possible that he was its first owner. The bow's exhibition at the 1937 Exposition Internationale coincided with Navarra's win at the Vienna competition when his international reputation took off. The name 'Navarra' appears in E. A. Ouchard's list of orders from the first quarter of 1942 for the receipt of 550 francs. Also of interest is that the name Benedetti, Navarra's trio partner, appears two lines later for the receipt of 450 francs.
Upon Navarra's death in 1988 this bow passed to his son Michel. In 1998 Michel Navarra sold it to the Brazilian cellist Márcio Carneiro who had been Navarra's teaching assistant and right-hand man. Carneiro, a highly esteemed cellist and pedagogue, was a prizewinner in the 1978 Tchaikovsky Competition and taught for over thirty years at the Hochschule in Detmold, Germany and more recently at the Conservatoire Supérieur Tibor Varga in Sion, Switzerland.
Jason Price is Tarisio's Founder, Expert, and Director
Notes
[1] Joseph Stevenson, "Biography of André Navarra," All Music, accessed on May 17, 2021, https://www.allmusic.com/artist/andr%C3%A9-navarra-mn0001196064.
[2] Margaret, Campbell, The Great Cellists (Ann Arbor, MI: University of Michigan Press, 1989), 212.
[3] IBID., 213.
[4] Heinrich Schiff quoted in IBID., 301
[5] "Andre Navarra, Cellist, 77," New York Times, August 4, 1988, https://www.nytimes.com/1988/08/04/obituaries/andre-navarra-cellist-77.html.
[6] Sylvette Milliot, Les Luthiers Parisiens aux XIXe et XXe Siècles (Spa: Les Amis de la Musique, 1994), n.p.
[7] For illustration, see page 389 in Bernard Millant and Jean François Raffin's L'Archet (Paris: L'Archet Editions: 2000).
[8] Pierre Guillaume in conversation with Jason Price, May 2021.