If you missed the opportunity to take our March London highlights quiz before the auction catalog went live, we present the full questions and answers here. You can browse the full catalog online now; bidding opens on March 10 and the sale closes on March 23. Contact us to book an appointment to view lots in our London office, or come to our public viewing on March 22–23 at the Royal Society of Chemistry, Burlington House, London.
---
Question 1: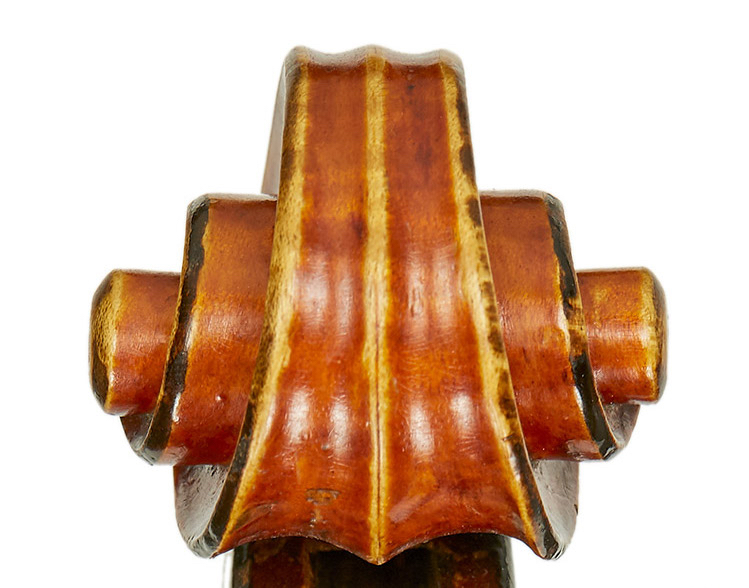 a) Jean Baptiste Vuillaume
b) Giovanni Battista Pressenda
c) Giovanni Battista Ceruti
d) Johann Baptist Schweitzer
Correct answer: b) A FINE ITALIAN VIOLA BY GIOVANNI FRANCESCO PRESSENDA, TURIN, 1828
There are several clues here: the thick, red varnish with light craquel, the heavy, blackened chamfer, the strong scribe-line and the large ears. Pressenda's early work is strong in personality and easily recognized. This noble 1828 viola, Lot 67 in the March sale, is handsome and in near-perfect condition.
---
Question 2: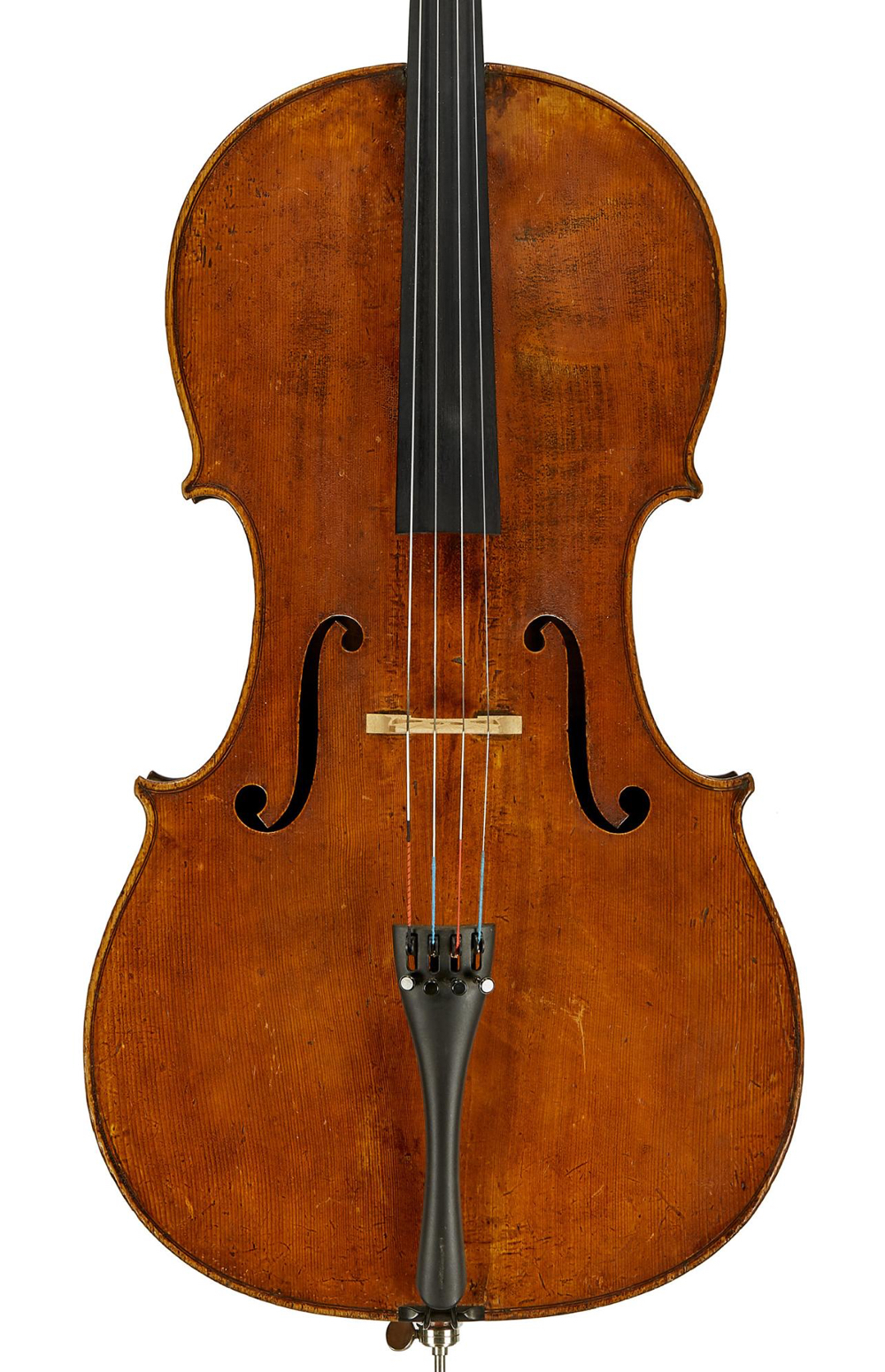 a) Thomas Kennedy
b) William Forster
c) Richard Duke
d) Thomas Dodd
Correct answer: d) A FINE ENGLISH CELLO BY THOMAS DODD, LONDON, c. 1800
Most of the cellos that were made in England in the 18th century were small, narrow-waisted, hollow-arched and followed either an Amati or a Stainer concept. One of the first major English makers to produce cellos on a Stradivari model was Thomas Dodd, whose Covent Garden atelier employed Bernhard Simon Fendt I and John Fredrick Lott. This c. 1800 cello, Lot 36, shows fine craftsmanship, a heavily pigmented, reddish-brown varnish and a strict adherence to Stradivari's B-form pattern, which would eventually replace the home-grown English cello models being used in the Forster and Kennedy workshops.
---
Question 3: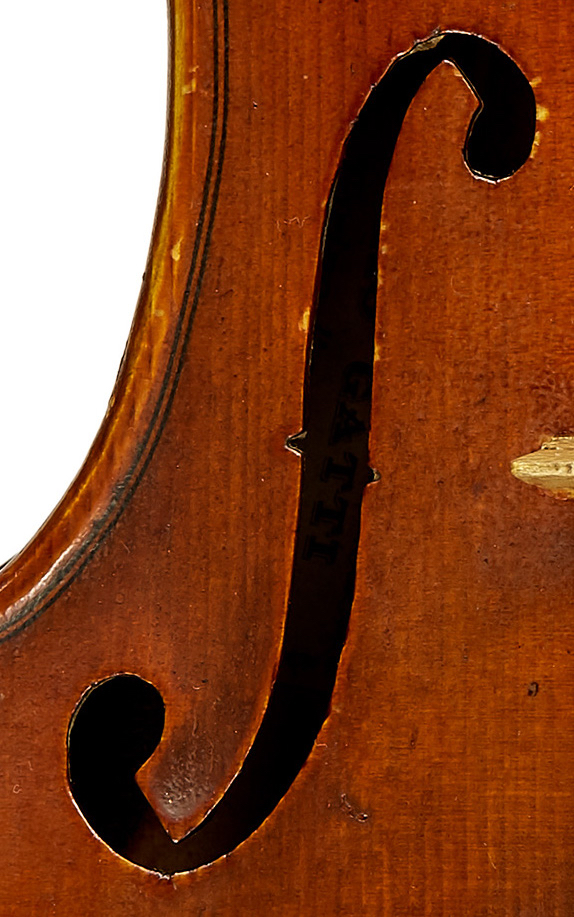 a) Carlo Giuseppe Oddone
b) George Gemünder
c) Giorgio Gatti
d) Piero Parravicini
Correct answer: c) A GOOD ITALIAN VIOLIN BY GIORGIO GATTI, TURIN, 1925
The violins of Giorgio Gatti, another Turin maker with a strong personality, are easily recognized by their helmet-shaped upper bouts, their round and high-set volute and the characteristic pinning. It can also be said that Gatti's tall and inward-leaning soundholes, with their large triangular notches, as seen on this example, Lot 228, show the clear influence of Pressenda a hundred years later.
---
Question 4:

a) Pierre Simon
b) Joseph Henry
c) Eugène Sartory
d) Jacob Eury
Correct answer: a) A FINE FRENCH VIOLIN BOW BY PIERRE SIMON
The tall, carefully proportioned frog with a Vuillaume-style seating seen on Lot 141 is typical of the work of Pierre Simon around 1870. The capped and equally proportioned three-part button with two precisely positioned pins (just barely visible on the lowest facet) is also typical of this maker's work for the Vuillaume shop. The chamfer on the edge of the button cap could be mistaken for Maline but the ferrule and thumb-projection of a Maline would be different.
---
Question 5: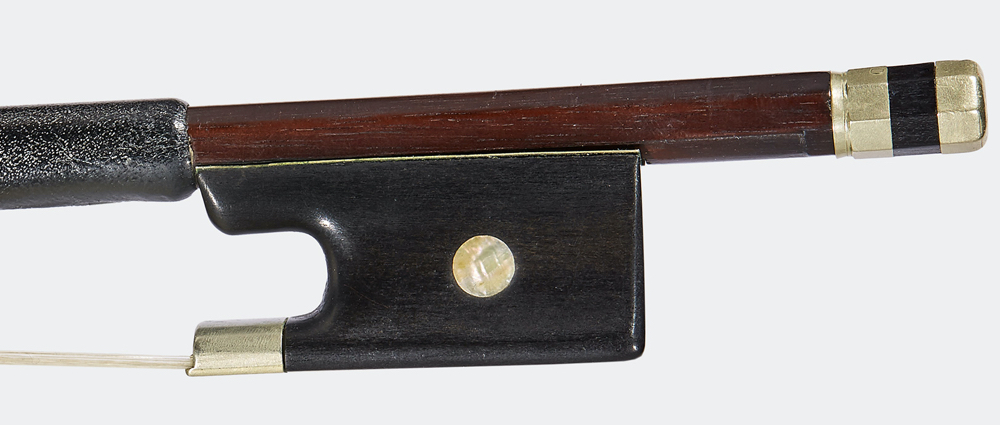 a) Joseph Henry
b) Pierre Cuniot
c) Nicolas Maire
d) Nicolas Maline
Correct answer: d) A GOOD FRENCH VIOLIN BOW BY NICOLAS MALINE
And here is the same Vuillaume style frog but made by Maline. The oversized button, the angled thumb-projection, the extended lower plane of the ferrule and the slightly off-center eye of Lot 138 all point to Maline.
---
Question 6: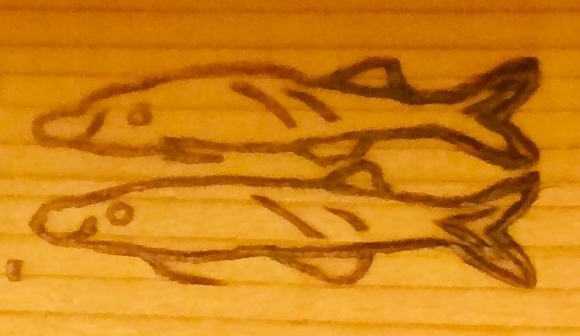 a) Vittorio Bellarosa
b) Georges Poissonnière
c) Lorenzo Storioni
d) Giuseppe Lucci
Correct answer: d) A GOOD ITALIAN VIOLIN BY GIUSEPPE LUCCI, ROME, 1969
Lucci is the Italian plural for pike, a long-nosed fresh-water fish. This brand, from the interior of Lot 229, was used by Giuseppe Lucci after 1967 and shows two lucci swimming into a large capital 'G' (see below). Lucci's daughter, Raffaella, told me this brand-stamp was given to her father by the noted Milanese collector Umberto Azzolina, a great admirer of Lucci's work.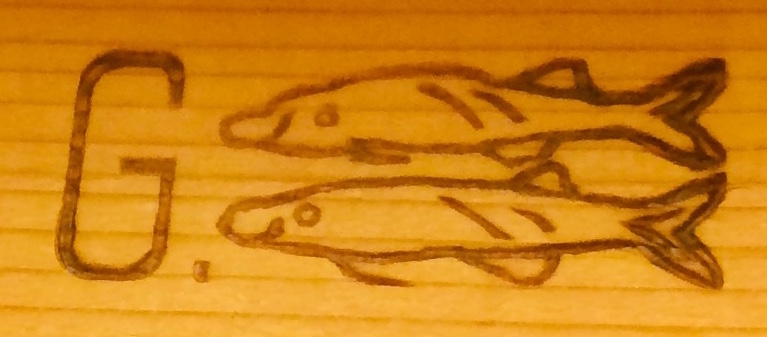 ---
Question 7: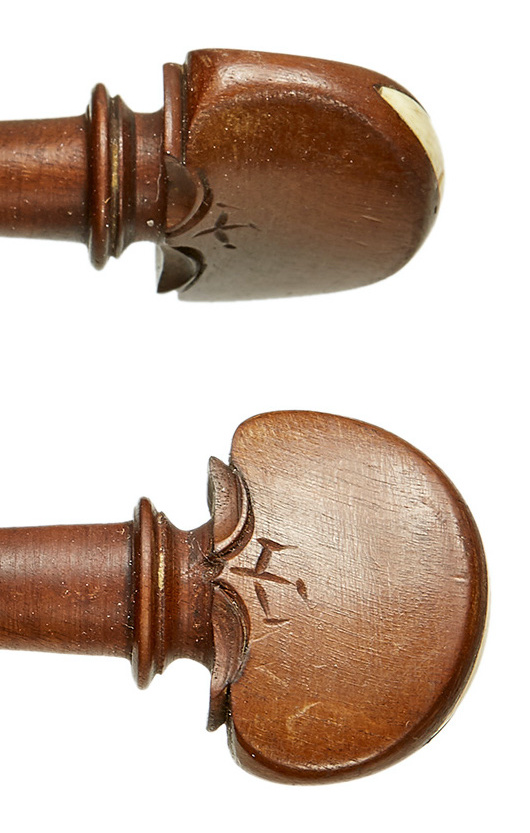 a) Eugenio Degani
b) Antonio Monzino
c) Vincenzo Postiglone
d) Paolo de Barbieri
Correct answer: d) A GOOD ITALIAN VIOLIN BY PAOLO DE BARBIERI, GENOA, 1932
Cesare Candi was an exceptionally talented Genoese craftsman with a keen attention to detail and art-nouveau-inspired aesthetics. A signature flourish of this maker was the ornate pegs that he designed and made for his instruments. The hand-carved, broad-faced, kidney-shaped heads have an inset ivory crescent that became a distinctive feature of 20th-century Genoese instruments. The Genoa expert Alberto Giordano confirms that this style of peg was used first by Candi and later adopted by most of his followers, including Paolo de Barbieri, Lorenzo Bellafontana, Giuseppe Lecchi and Candi's elder brother, Oreste. Illustrated above are the original pegs from a 1932 violin by Paolo de Barbieri, Lot 232. These pegs are typically made of jujube wood, a locally available shrub of the buckthorn family. Jujube is a self-lubricating hardwood – a conical fit becomes tighter and smoother with use – making it an ideal choice for pegs.
---
Question 8: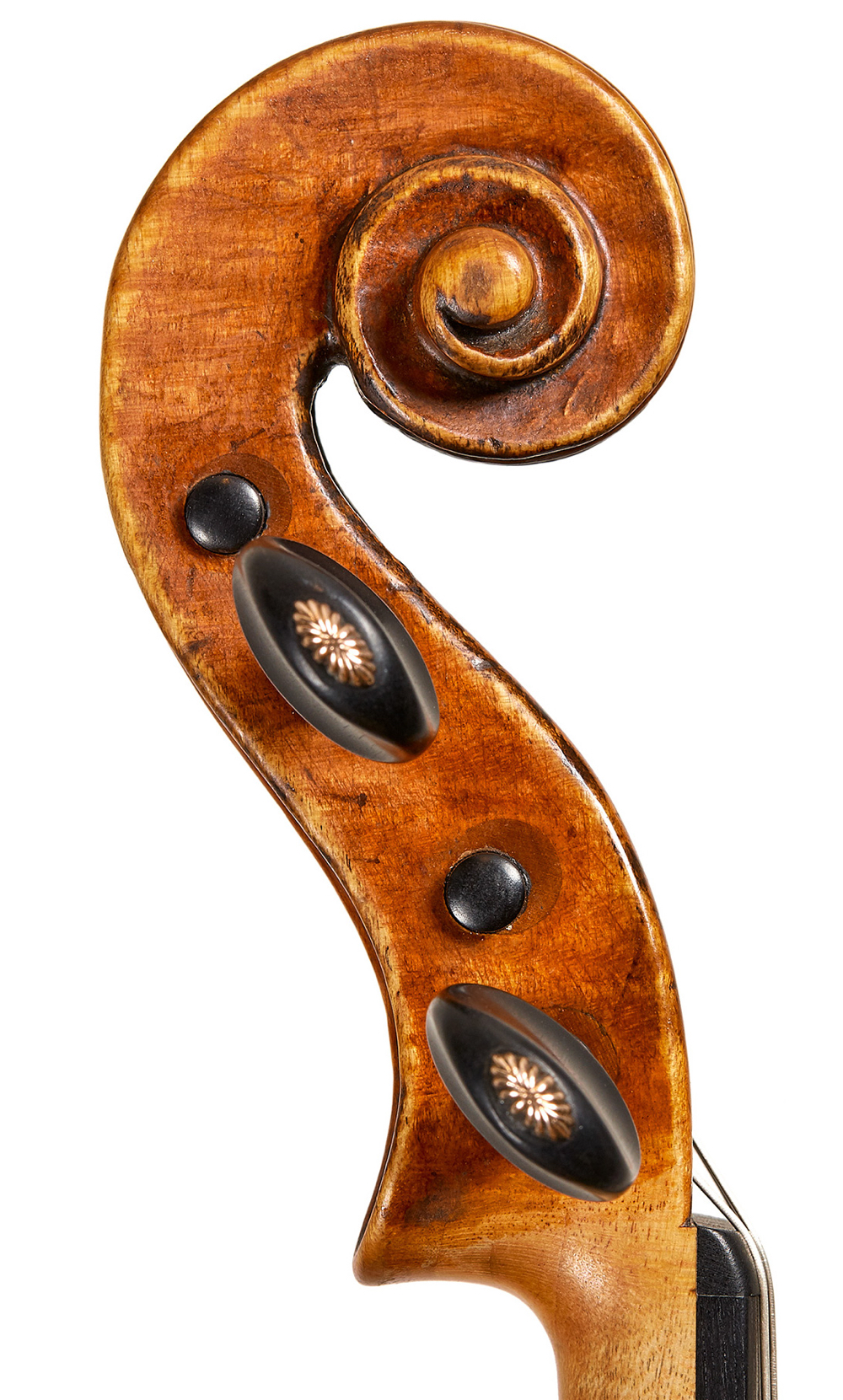 a) Giuseppe Ceruti
b) Bernardo Calcani
c) Leopold Renaudin
d) Giovanni Battista Genova
Correct answer: b) A FINE ITALIAN VIOLIN BY BERNARDO CALCANI, GENOA, 1755
Still in Genoa but 200 years earlier, the finest maker of the early 18th-century Genoese school was Bernardo Calcani. His heads are highly distinctive with a large, open throat, a diminutive volute and a tidy blackened chamfer, as seen on Lot 242, dated 1755. His soft, orange-brown varnish was also one of the most attractive 18th-century varnishes outside of Cremona and Venice.
Look out for next week's feature by Alberto Giordano, examining Calcani's life and work.
---
Question 9: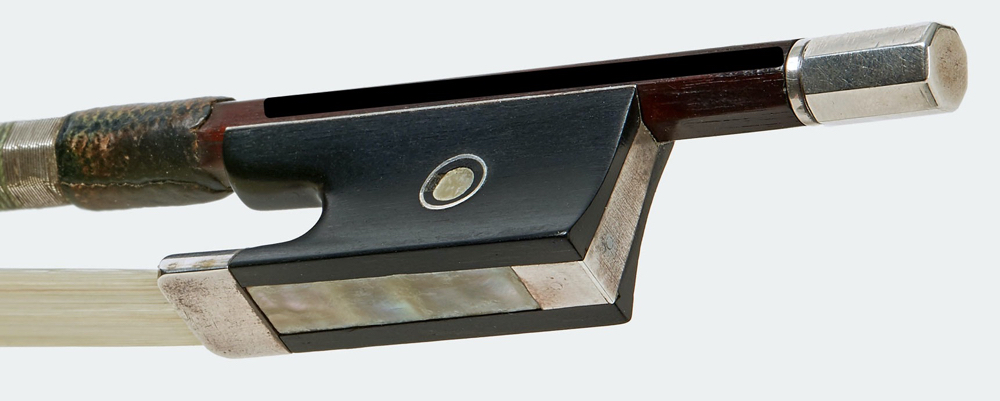 a) Eugène Sartory
b) Nicolas Maire
c) Eugène Cuniot-Hury
d) Berte Morisot
Correct answer: a) A FINE FRENCH VIOLIN BOW BY EUGENE SARTORY
The dilemma with bows is always 'how much original material must there be to make a conclusive attribution?' When a bow is missing both frog and button, and has recut chamfers, can we really know what it is without a reasonable doubt? But for something as straightforward as a Sartory, a few details are enough. In this image of Lot 140, shot at an oblique angle, we can already see the proportion of the pearl and ring in the Parisian eye, the size of the cuts in the button collar, and the proportion of the metal and pearl in the heel and slide.
The minimal flare to the facets of the button and the pinning of the two heels could indicate several makers, but the open triangle 'exit wounds' where the channel of the slide escaped the back end of the frog, point us in the direction of Sartory. We see the same unfilled triangles in the rounded heels of his cello bows, a distinctive characteristic of this maker working in haste, but always at a high level.
---
Question 10:
a) Hendrick Jacobs
b) Vincenzo Rugeri
c) Andrea Guarneri
d) Lorenzo Carcassi
Correct answer: c) A COMPOSITE ITALIAN VIOLIN BY ANDREA GUARNERI, CREMONA, c. 1675
The most successful documented pupil of Nicolo Amati, Andrea Guarneri, left the Amati workshop in the mid-1650s and began his own Cremonese dynasty. The back illustrated above is typical of Andrea's work in the 1660s and 70s – the model is taken from Amati but the edgework is more rounded and deeply fluted, the purfling makes a blunter, more inward-facing mitre and the varnish sits heavily in abundant toolmarks.
But don't get too excited – this Guarneri, Lot 240 in our March auction, is a composite and only the back is original to the maker. Albert Caressa ascribed the other parts to Cappa, W. E. Hill & Sons said the head was by Richard Duke, while A. Vidoudez and Hammig were either optimistic or misleading, depending on your point of view. The back is clearly Andrea, however, and the good news is that it has a very attractive estimate and will be a great-sounding violin for the right player!