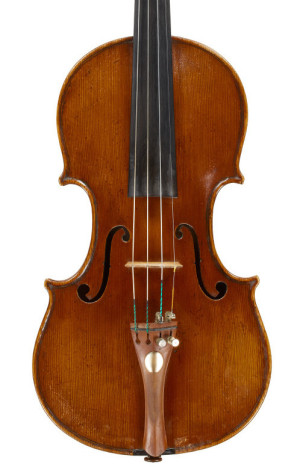 The quality of 18th-century Milanese violin making varied widely, as typified by the output of the Testore family. From the high point of Carlo Giuseppe Testore's best violins, their work declines to hastily constructed instruments made using cheap materials. Their tone quality can be outstanding, but inked purfling, shabby scrolls and an indifference towards the ideas of Cremona earned them the scorn of connoisseurs. The Hills in 1901 famously referred to the city's makers as 'Milanese cheap-jacks'. Yet many glorious instruments were made in the Lombard capital in the latter half of the 18th century by Giovanni Battista Guadagnini, the Mantegazzas and the Landolfi family.
One of the finest makers to move to Milan in the 18th century was Carlo Ferdinando Landolfi. It is uncertain when he first arrived in the city from his native Baveno in Piedmont, but it was probably around 1750. It is assumed that he spent some time in the workshop of Paolo Antonio Testore. No documentary evidence for their association has been discovered, but it is suggested by Landolfi's adoption of Testore's models, in particular a distinctive, bold arching intended to maximise the volume of the instrument without compromising the major measurements. Landolfi's identity is more complex, however, as he appears also to have been influenced by Germanic making. His instruments show an unfaltering adoption of slightly more upright and typically Stainer-like soundholes that distinguish his work from other Milanese makers.
G.B. Guadagnini arrived in Milan at roughly the same time as Landolfi and together they must have introduced a very different dynamic to the city's violin makers. Traditionally G.B. Guadagnini is seen as the maker who influenced Landolfi, but a closer look at the period around 1750 suggests a more complex picture. The thick, lustrous red varnish that appears suddenly in Guadagnini's work upon his arrival in Milan, seen in the 1755 'Berkova' Guadagnini, was also used by Landolfi during this period and it is unclear which maker first adopted it. The major structural improvement of Guadagnini's Milan period was his adoption of a grand-pattern, which was perhaps an indirect reaction to the boldly arched Milanese violins of Landolfi and P.A. Testore. While Guadagnini produced some of his greatest instruments under the shadow of these influences, the relationship worked both ways, and much of Guadagnini's style seems to be imprinted on Landolfi's work. Cellos in particular demonstrate similarities in their general form, and both makers gravitated to a model with a shorter body length; both also share a carefulness of making while retaining their own models and idiosyncrasies.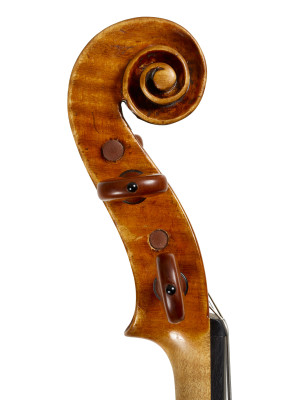 Landolfi was assisted by his son, Pietro Antonio, and also taught Pietro Giovanni Mantegazza, whose works emerge in the 1760s, deeply influenced by the interplay between his teacher and Guadagnini.
This Landolfi violin was made in 1772 and demonstrates the same high standards as his earlier work. The upright soundholes suggest a Germanic influence, as does the bold, meticulously sculpted edgework, but the model is overwhelmingly Testore-inspired. Combined with its outstanding red varnish and fine wood, the violin represents the very best of Milanese 18th-century work – a far cry from the ignominy of the Milanese 'cheap-jack'.