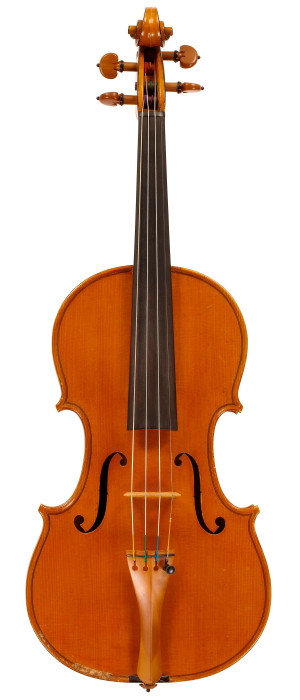 The style and working techniques of the great 19th-century French violin makers had a profound impact on many emerging modern Italian makers of the early 20th century, and the mature work of Carlo Giuseppe Oddone (1866–1935) reveals a unique blend of clean French precision and warm Italian styling.
In contrast to the provincial apprenticeship training of some of his Italian contemporaries, Oddone entered the violin making trade at a very young age and soon moved to London, where he worked under Frederick William Chanot. In 1892 Oddone returned to Turin, and by the turn of the century he had succeeded in fusing the fastidious precision of the Anglo–French tradition with the classical models of his forebears Stradivari and Guadagnini into a convincing and innovative Piedmontese model. He reproduced this personal and experimental model with superb results for the rest of his career.
This 1906 example illustrates several qualities of Oddone's best works: thick, lustrous varnish of a yellow-orange color, thin purfling that stops abruptly short of squarish corners, and a consistent channeling and edge profile throughout. The painted scroll chamfers and rib miters and the clean, precise internal work are found throughout Oddone's career.