David Gusset discusses his two instruments in the October NY auction
By David Gusset
The late 1980s through the early 1990s was an intense and productive period in my work. My interests led me to study and document a number of early instruments of the Cremonese violin family. Those that most interested me included instruments from three generations of the Amati family and the earlier violins of Stradivari up until his Golden Period. For me, this is the most important era of Cremonese violin making to study, not only in terms of being able to observe and understand the instruments' subtle yet gradual evolution, but also to appreciate the essential design concepts and ideals of the Cremonese makers. I consider these to be the defining characteristics of classic Cremonese instruments, which remain constant throughout that era and can even be found in the work of Guarneri 'del Gesù'.
We all admire the old Cremonese varnish, but other defining traits of classic Cremonese violin family instruments are the architecture (the design of the arching), the geometry (shape and proportions of the outline of the rib structure, and consequently the outline of the plates and placement of the sound holes) and the elegant sculptural detail composed of dynamic line, form and proportion. Unfortunately, there are no written or tangible rules about any of those aspects that have come down to us today. And even though the architecture and geometry varied from maker to maker and evolved over time, it is apparent that there was a common system of thought or vision that unified the work of the early Cremonese makers. In the 1980s and 90s I was fortunate to have access to many fine historic instruments in shops, private collections and museums, which gave me a greater insight into the early Cremonese ideals and profoundly influenced my work.
In a way, I feel part of that early Cremonese tradition in carrying on and staying true to those ideals. In my own creations, I have tried to incorporate the elegance, the dynamic line and form, the flowing arches and the delicate, richly colored oil/resin varnish that ages nicely over time. In addition, because of my association with Frank Passa, who was a pupil of Simone Sacconi, I put a strong emphasis on proper modern set­up and well­carved necks, all in the style of the Hill's or Wurlitzer's.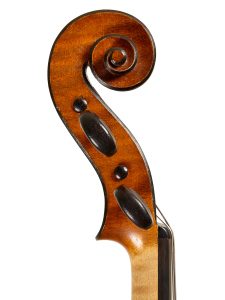 The 1993 violin 
In the 1980s I received a grant from the Smithsonian Institution to document and prepare accurate and measured illustrations of instruments in their collection. One violin that I documented for the Smithsonian was the 1687 'Ole Bull' decorated Stradivari. Another Stradivari violin that was a major influence on my work in those years was the beautiful 1700 'Heberlein/Taylor', which was regularly entrusted to me for maintenance. I made one antiqued copy of it in 1982, which is now in the possession of the San Francisco Symphony. My relationship with those two violins inspired a few of my Stradivari models that I made 'like new' with full, delicate oil varnish, recreating all the crisp sculptural details of the edgework and scroll as they would have been when they first left the Stradivari workshop. The 1993 violin is one of those.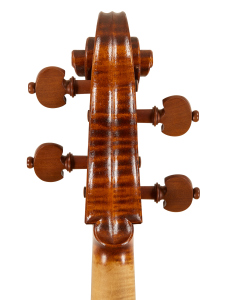 The 1994 viola
Finding an uncut example of a classical Cremonese contralto viola to use as a model has always been a challenge for the contemporary maker. The Amatis made violas, but they were the huge tenors (which have mostly been reduced in size). Smaller contralto violas did not begin to appear in Cremona until the late 1600s. However, by that time the demand for violas was waning, so very few contraltos were ever made. Andrea Guarneri and his son Giuseppe made a few, but I was never excited by the 'Primrose' Guarneri which many modern makers take for a model. And simply enlarging a violin won't work… To design a successful viola from scratch, one has to develop an understanding of the geometry of the historic violas. After years of study of Amati and Stradivari instruments, I developed a system which I was able to put to use in designing my own violas. My 1994 viola bears a facsimile Brothers Amati 1616 label. I did incorporate many design elements of the early Amatis, interpreting aspects of Amati geometry and architecture, but actually no element of this viola is a slavish Amati copy. It is my own vision grounded in knowledge of historic instrument design. Unique to this viola are custom­made pegs – copies of beautiful early Italian viola pegs in the National Music Museum collection.
Biography
David Gusset was born in San Francisco in 1951 and began studies of art and music at an early age. In 1974 he began his apprenticeship at the new violin making school in Salt Lake City and became one of the first graduates of the program. He worked at Frank Passa's violin shop in San Francisco until 1979. He has received many awards, including three gold medals from VSA competitions, and in 1985 a gold medal plus the 'Premio S. F. Sacconi' award (for the instrument that best represented the classical Cremonese ideals) from the Triennale in Cremona. He has been hors concours at the VSA since 1982. David now lives and works in Eugene, Oregon where he makes, repairs, restores and appraises. He has contributed articles to The Strad and Strings magazines, American Lutherie and other publications.
David has been a member of the jury of violin making competitions in Cremona, Italy; Cleveland, USA; Beijing, China; and Mittenwald, Germany. He is a staff member at the VSA summer violin making workshop at Oberlin, plus a member of the AFVBM since 1983 and
EILA (Entente Internationale des Maitres Luthiers et Archetiers d'Art) since 1990.