Eugène Nicolas Sartory
---
Probably the finest bow maker of the 20th century, Eugène Sartory studied with his father in Mirecourt and went on to work for Charles Peccatte and Alfred Lamy in Paris. In 1889 Sartory set up his own workshop at the age of 18, becoming completely self-sufficient ...Read More as a maker by 1910. While he was influenced by Lamy, Sartory created a heavier model with a broader head, and the sticks are often octagonal, especially after 1930. His frogs have characteristic throats in the shape of an open 'U'.

One of Sartory's first patrons was the Belgian violin virtuoso Eugène Ysaÿe, which attests to the strong affinity players feel for his work. As his success grew and his production was outstripped by high demand, Sartory employed other makers to assist him, including Louis Morizot, Jules Fétique and Louis Gillet, all of whom became celebrated makers in their own right. Sartory nevertheless kept a close eye on the quality of all bows to leave his workshop. His bows, which have been forged and copied quite extensively, are stamped 'E. Sartory à Paris' to the handle and also frequently under the lapping. Read Less
---
Price History
- The auction record for this maker is $86,926 in Jun 2011, for a cello bow.
- 1162 auction price results.
View all auction prices for Eugène Nicolas Sartory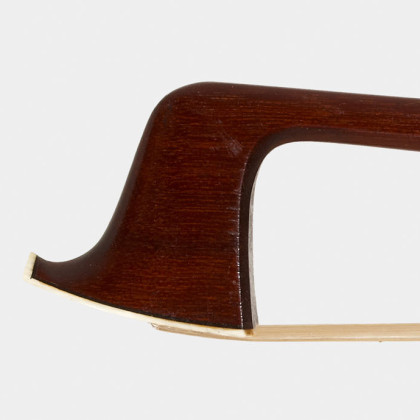 Expert Pierre Guillaume on a Sartory in pristine condition
More related
Carteggio features
Sign up to receive Carteggio features directly
Subscribe to the Cozio Archive
Essential reference for the string world – over 30,000 instruments and bows with photos, provenance, prices and expert commentary.
SUBSCRIBE