Daniel Parker
---
Violin maker
(c. 1700 – c. 1730)

One of the most accomplished and mysterious British violin makers, Daniel Parker seems to have been a contemporary of John Hare and may have studied with Barak Norman. He probably did much of his work for those two makers, in addition to other London shops, but there is no evidence that he served a formal apprenticeship or ever ...Read More set up on his own. Parker was a prescient early adopter of the long-pattern Stradivari model in an era dominated by the influence of Stainer. Around 1703 a Cremonese violinist with connections to Stradivari began to frequent Hare's London shop, which may have provided Parker with a new model and insider information on the great master's methods. Shortly thereafter masterful Stradivari copies bearing the label of Barak Norman and the hallmarks of Parker's hand began to appear, the earliest dated 1704. The features of his work, which is rare, are characteristically Cremonese, while the details of workmanship are English. Varnish is so fine as to be mistaken for Italian, and varies from a light orange-brown to a bright, transparent red. Read Less
---
Price History
- The auction record for this maker is $66,372 in Oct 2013, for a viola.
- 21 auction price results.
View all auction prices for Daniel Parker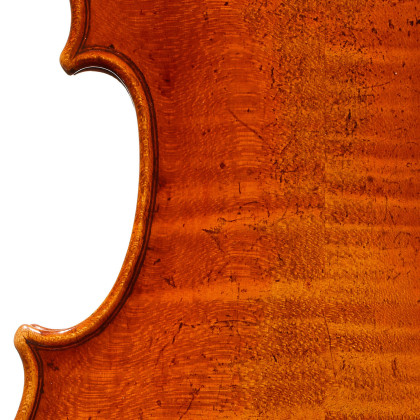 How a £50 violin by Daniel Parker turned into a 'Stradivari'
More related
Carteggio features
Sign up to receive Carteggio features directly
Subscribe to the Cozio Archive
Essential reference for the string world – over 30,000 instruments and bows with photos, provenance, prices and expert commentary.
SUBSCRIBE