Carlo Carletti was born in 1873 in Pieve di Cento, a small, charming Emilian town in the province of Bologna. He was the founder of the Carletti family of makers, which included his sons, Natale, Orfeo and Nullo, his nephew, Genuzio, and finally his grandson, Gabriele.
Initially a carpenter, furniture restorer and, it seems, antiques dealer, Carlo Carletti gradually became involved in violin making during the late-19th century, but also continued his earlier activity. Pieve di Cento, located some 30 km north of Bologna, placed the young Carlo within half a day's journey of the famous Raffaele Fiorini workshop, where he may well have learned the fundamentals of the craft during the mid-1890s; his early work is certainly similar in style to that of Fiorini and is sometimes wrongly attributed to the elusive work of that maker.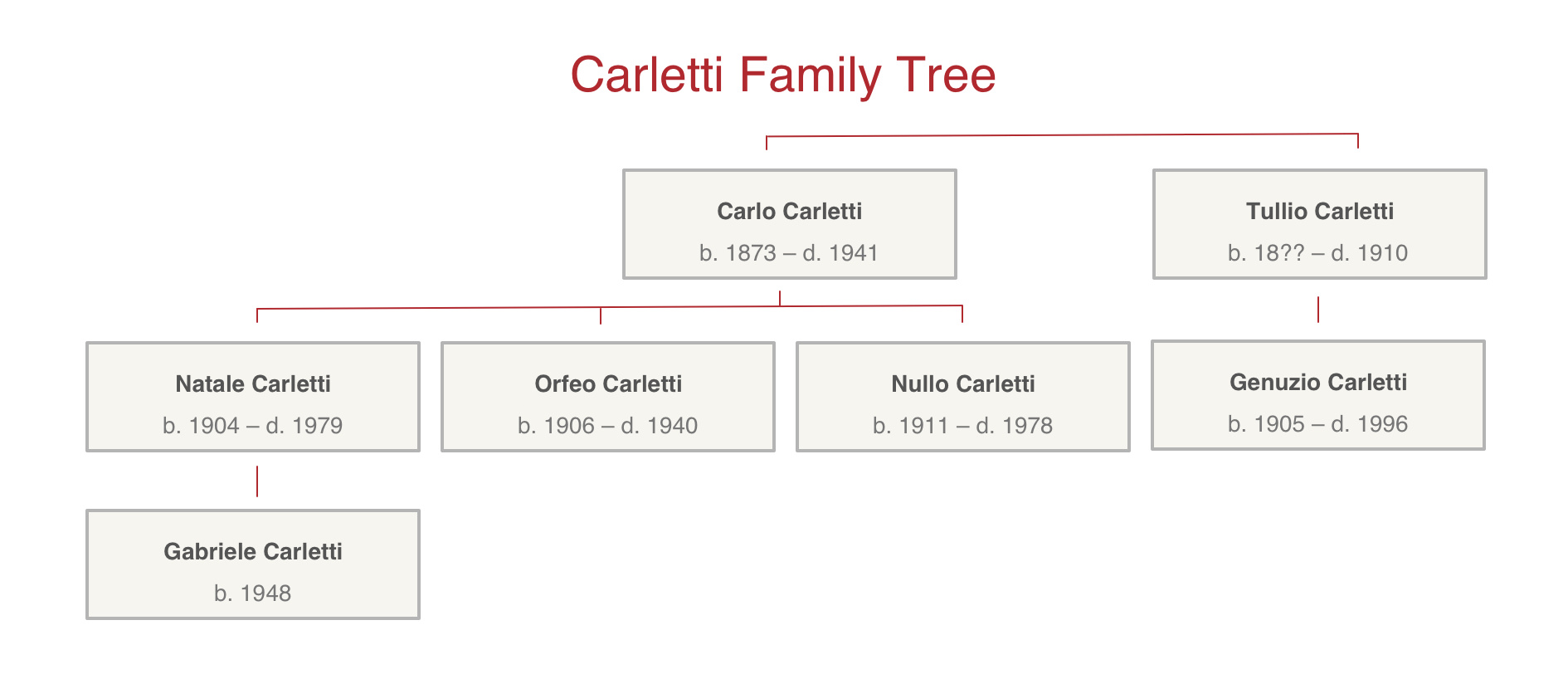 Though instruments from this early period are very rare, by the late 1890s he had become a fully fledged violin maker. Carlo, a few years senior to Augusto Pollastri and Ettore Soffritti, who both had an influence on his work, belonged to the generation of Italian violin makers that was responsible for the true renaissance of the craft before the First World War.
Carlo married Emilia Vedrani at the end of the 19th century and his eldest son, Natale, was born in 1904, followed by Orfeo in 1906; both sons trained with their father, assisting him from an early age, and themselves became professional violin makers during the 1920s; the third son, Nullo, born in 1911, also became a violin maker, although this does not appear to have been his primary occupation.
In his effort to make a living, Carlo constructed instruments for himself and for other makers, in particular Leandro Bisiach and Romeo Antoniazzi, for whom he produced instruments 'in the white'; similarly he worked briefly for Luigi Mozzani, a guitar maker who opened a factory in Cento (a larger town close to Pieve) around 1908.
Natale Carletti was encouraged to become a musician and studied the cello, earning a diploma from the Bologna Conservatory. But earning a living was never easy for the Carlettis and from around 1915 the 11-year-old Natale worked for the Mozzani workshop, which produced cheaper-grade instruments. Orfeo Carletti followed a similar path to his brother, though there is no evidence that he worked for Mozzani. Natale married Maria Malagutti in 1932 and the couple had a daughter, Elena. Maria died in 1936 and Natale remarried Eros Fregni in 1939. Gabriele Carletti, the last violin maker of the clan, was their third son.
In 1928 Carlo directed Natale and Orfeo to open a workshop in the center of Bologna, just steps away from the old Fiorini workshop in via Pepoli. This Bologna workshop functioned for about six years, finally closing its doors around 1934–36.
Orfeo died prematurely in November 1940, aged 36. Just over three months later the 68-year-old Carlo died of a heart attack near Cento. Quite suddenly, Natale and Nullo Carletti found themselves in charge of the Carletti workshop in the midst of World War II. These could not have been easy times for any violin maker, particularly those in rural Italy. In spite of this, demand for their work continued, and we see a reasonably steady production during the war years from the best makers of Emilia-Romagna, including the Carlettis.
Quite suddenly, Natale and Nullo found themselves in charge of the Carletti workshop in the midst of World War II
While Natale's work is plentiful, Orfeo's personal work is rarely encountered and that of Nullo is still rarer. It may be inferred that Orfeo was initially helping his father along with Natale and later worked with his brother. Nullo's work is quite a bit rougher than that of his brothers; violin making was unlikely to have been his main occupation. Natale's son, Gabriele, took up violin making during the 1960s, also becoming a maths teacher. Natale died in 1979, aged 75.
Along with his sons, Carlo also taught his nephew, Genuzio Carletti. Son of Carlo's brother Tullio, Genuzio was close in age to both Natale and Orfeo. He lost his father aged five and from a young age apprenticed with his uncle in both carpentry and violin making. At 15 he was working in Bologna for a book printer, but returned to Pieve di Cento aged 20 to work with his cousins and uncle. He soon appears to have had a major falling out with them and went his separate way, never reconciling with them. He thus began to work on his own from 1936. In the following years he mostly worked as a carpenter in Bologna to maintain his family, which eventually included at least four children.
Genuzio's work was noticed by a New York maker–dealer of Italian origin, Joseph Settin, with whom he began a collaboration that grew after World War II. During the 1950s Genuzio was employed by a large pasta-making equipment producer in Cento, although he continued to make instruments on a part-time basis. These were largely exported to Settin, who appears to have been his key client, until the latter's death in 1970. From then on Genuzio worked full-time as violin maker until his late 80s. He died in 1996, aged 91.
The Carlettis' making
The Carlettis worked in the shadow of some of their greatest contemporaries in the cities of Bologna and Ferrara. Nevertheless, they managed to build a niche for themselves and their best work ranks among the most interesting of the traditional modern Italian school.
The quality of Carlo's production is not consistent: instruments produced by the Carletti workshop for others, and even some bearing Carlo's own labels, are generally of a substantially lower quality than his far rarer truly fine examples. The difference in quality can be quite staggering. With his best instruments, Carlo earned his place among the most creative and clever violin makers of the period.
Carlo built two basic types of instrument: straight and fake. The best of the straight instruments are loosely modeled after Stradivari, sometimes Guarneri and Amati, but are also influenced by the work of Pollastri. His complex, soft, red-brown varnish can be sublime and even crackles and coagulates similarly to that of Pollastri. However, compared with Pollastri and Soffritti, Carlo's models are generally thinner and the workmanship, with a few outstanding exceptions, is considerably inferior.