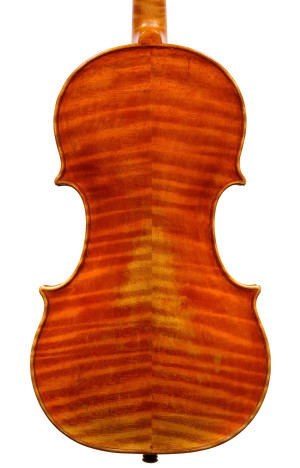 Along the shores of the river Po, some 40 miles from Cremona, the city of Mantua was home to a violin making school that thrived long into the 18th-century as one of the last outposts of the Cremonese tradition. Mantua had been famed for music since Roman times as the birthplace of Virgil, while in the Renaissance the Gonzaga family turned the city into one of the leading cultural centres in Northern Italy. By the early 17th century it was regarded as one of the most important hubs for musical culture in Europe with the presence of innovative figures such as Claudio Monteverdi, a Cremonese native who later worked as the music director at the Mantuan Gonzaga court.
In 1683 Pietro Guarneri moved to Mantua from Cremona and quickly found employment as a musician in the ducal court. His production of instruments was relatively small and apparently limited exclusively to violins but he nevertheless succeeded in bringing the Cremonese tradition and working methods with him and influenced several subsequent generations of Mantuan makers. His work expanded on that of his father, Andrea Guarneri, and by 1700 he had adopted a larger form with higher arching and upright soundholes. Pietro of Mantua is often regarded as the most technically accomplished of the Guarneri family, with a precision that rivals Stradivari, but his followers in Mantua appear to have been more pragmatic in their production of instruments. Their output echoes the changes in quality that are found more generally among the makers of Milan and Cremona as the 18th-century progressed.
Camillo Camilli was born around 1704 and was a teenager when Pietro Guarneri died in 1720. He may have gained his training through the slightly older Mantuan maker Antonio Zanotti. In this violin of 1742 he seems to have begun with the bold Pietro Guarneri model and worked backwards to find a medium more reflective of Nicolò Amati's grand pattern, resulting in a work that is highly interesting and distinctively Mantuan. The pins on the back and a small dowel filling the dorsal pin position show the persistence of Cremonese working methods, particularly those of the Guarneri family. The originality of Camilli's model places it on a par with the Venetians as contemporary makers experimenting, in different directions, within the Cremonese methods. Camilli died in 1754, but the same rotundness of model and lightness of form lived on in Mantua through the early works of Tomasso Balestrieri who died around 1790.
When compared with the production of Naples, Milan or Venice in the 18th-century, Mantuan violins are rare, little known and subsequently underrated, but these four makers, who together spanned the 18th-century, provide enduring testimony to the Cremonese tradition.