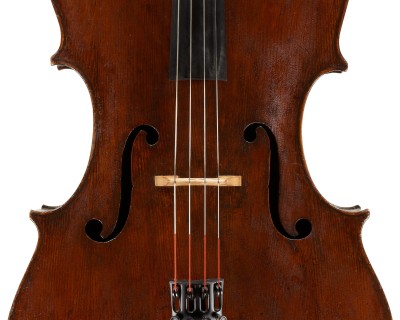 Giovanni Tononi was one of the earliest Bolognese luthiers. His work is varied in output but typically follows the stylistic ideas popular in Venice and the Veneto during the late 17th century.
Cellos came in many different shapes and sizes in northern Italy during the 17th century and it was only after Stradivari's extensive experimentation that the instrument's size and dimensions became more standardized. This cello from c. 1680 is built on a large model with a back length of 77.3 cm.  Remarkably, its dimensions have never been altered, unlike so many other 17th-century cellos. It shows an unusual choice of materials, with the top pieced together from four unmatched pieces of spruce cut slightly away from the quarter, creating a unique visual effect towards the upper and lower edges. The back, ribs and head are made of ash. This was probably a local alternative to flamed maple, which was no doubt more expensive and hard to acquire in sizes large enough for a cello back.
The cello is covered in a glorious craqueled red varnish of the sort that one might expect to see on a great Venetian instrument.