Borrowing
For many musicians, the biggest obstacle to buying a fine instrument or bow is often that full payment must be made shortly after the sale. You may find your dream instrument but coming up with the complete funds to purchase it can take months. This program is designed to bridge that gap.
| | |
| --- | --- |
| Maximum loan amount | $50,000 |
| Minimum loan amount | $10,000 |
| Term | Up to 12 months |
| Maximum loan to value ratio | 50% |
| Interest rate | 0.83% per month |
| Fees | None |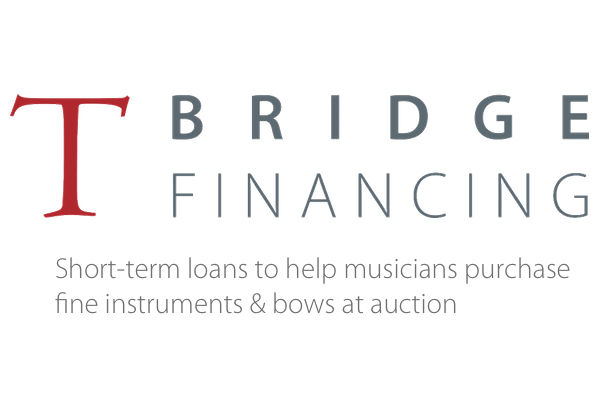 ---
How does it work?
If your application is approved, you can borrow up to 50% of the purchase price with a maximum loan of $50,000. Upon receipt of your share of the payment, you can collect the instrument or bow. You will receive interest-only monthly invoices but you only need to pay the full balance at the end of the 12 months. Prepayment is available at any time, with a 3 month notice period.
Am I eligible?

Bridge Financing is available to musicians residing in the United States. Currently we are only accepting applications for our New York Fine instrument auctions but hope we will soon be able to offer this in our London sales as well.
Applications are accepted from the time the catalog is online until 48 hours before the end of the sale.
What else do I need to know?

Tarisio Bridge Financing loans are secured by the value of the instrument or bow you purchase. You are required to insure it for the duration of the loan and in the event that you default on payments, it will be resold at auction with proceeds prioritized to the credit of the loan program. Further details are available upon application.
I am interested. What are the next steps?

Please submit the following form to register your interest. There is no obligation at this stage. Upon receipt of your registration, we will be in touch to discuss your needs and offer instruction on submitting a formal application.
The number of loans available per sale is limited and approval will be on a first come, first served basis. We aim to have all loans approved within 24 hours of receiving your formal application.
---