Giovanni Paolo Maggini
---
Violin maker
(1580 – c. 1630)

The best known maker of the Brescian school, Giovanni Paolo Maggini was born in Botticino and moved to Brescia around 1586 to train with Gasparo da Salò. After twenty years of work for da Salò, Maggini struck out on his own and began to develop his own models. His violins are based on two unique patterns, one of which is ...Read More about 35.5 cm and conforms to contemporary standards for length, and the another which is significantly larger, about 37 cm. Maggini himself seems to have preferred the larger model for its powerful sound quality, and indeed the increased length may have inspired the celebrated 'Long Pattern' violins of Antonio Stradivari. Maggini's early violas were also rather large, but he reduced them over time to what is now the standard size for a contralto viola, about 41-42 cm.

Because his labels are undated, a clear picture of the evolution of Maggini's work is elusive. In fact, dendrochronology has proven that many distinguished instruments historically attributed to him were made after his death around 1630 in the great plague that swept through northern Italy. These particular instruments are the source of much conjecture, but it is possible that they were made by an unknown follower of Maggini sometime after 1650. In spite of the speculation surrounding these later works, Maggini left behind a formidable collection of violins and violas that attest to the pivotal role of the Brescian school in early violin making. Read Less
---
Price History
- The auction record for this maker is $186,000 in May 2011, for a bass.
- 52 auction price results.
View all auction prices for Giovanni Paolo Maggini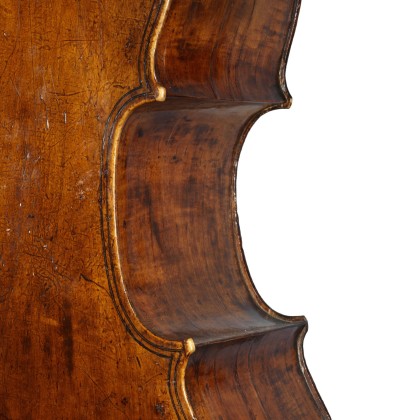 Duane Rosengard examines Maggini's superb 'Delmas' double bass
More related
Carteggio features
Sign up to receive Carteggio features directly
Subscribe to the Cozio Archive
Essential reference for the string world – over 30,000 instruments and bows with photos, provenance, prices and expert commentary.
SUBSCRIBE